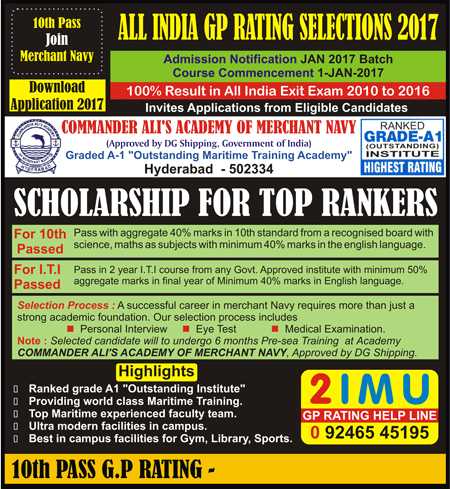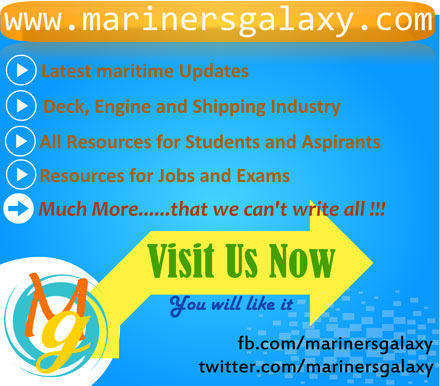 IMU-DNS Deck Cadet Sponsorship Test 2016 - Know More


Admission Open At INTERNATIONAL MARITIME INSTITUTE, Noida. Know More


Admission Open For IMU-DNS AUGUST 2016 Batch. Apply-Now


Marine Engineering Course Application Admission Form -2016. Apply


Merchant Navy GP Rating Course Online Admission 2016- Apply-Now


Download GP Rating Online Application(For 10th Pass - Download-Now


BSM Sponsorship Test For Deck Cadet Course 2016- Apply-Now


BSM Sponsorship Test For GME Course 2016- Apply-Now


Deck Cadet Admission On IMU-CET Rank Basis.- Know-More

IMU-CET DNS 2016 Admission. Know More


Online Application IMU-CET 2016. Apply-Now


Admission Open For GME 2016. Apply-Now


GP Rating Admission Open- Apply-Now


Deck cadet sponsorship 2016 Know More


Admission Open Vishwakarma Maritime Academy.Know More


IMU-CET Coaching 2016 Batch. Apply Now


GME sponsorship Test 2016. Apply Now


All India Merchant Navy Recuritment 2016. Apply Now
---
Study-Materials & Books For IMU-CET & Sponsorship Test is now available for:
Courses: (D G Shipping & IMU Approved)
MERCHANT NAVY ENTRANCE BOOKS 2016 Know More
About Indian Maritime University CET ...
IMU-CET is common entrance exam conducted all over India, for admission into various Marine courses like
Deck Cadet Course,
DNS Leading To Bsc Nautical Science
Bsc.Nautical Science,
B.E Marine Engineering
Naval Artitecture
G.P Rating
Candidates want to get admission for any of these courses, have to appear and qualify IMU CET AUG 2016 Exam. For coming AUG Batch CET will be held in month of May-June 2016.
The Common Entrance Examination shall have 200 objective type multiple choice questions each carrying one mark distributed in six subjects which are to be attempted in 3 hours duration.
These six subjects are as follows:
English 25 questions
General Knowledge 25 questions
General Aptitude 25 questions
Mathematics 50 questions
Physics 50 questions
Chemistry 25 questions
About Shipping Company Sponsorship Test
Some reputed shipping company organize Sponsorship Test and select candidates for Sponsorship. Basically "Sponsorship" is Job, Placement & Training assurance in WRITTEN given to a candidate who successfully clears all the phase of "Sponsorship Test" organized by any D.G Shipping Licensed shipping company.
Generally "Sponsorship Test" is completed in 3 Phases as follows:
Written Offline/Online Test
2.Psycometric/16 PF Test
3.Personal Interview &
4.Medical Examination (By D.G Approved Doctor)
Candidate who successfully passed all phases are then "SPONSORED" by the Company and issued "Sponsorship Letter".

Benefits Of getting "Sponsorship"
In today's scenario , Almost no shipping companies recruits any fresher candidates, who completed the pre-sea course as a "NON-SPONSORED" So they have to face of a lot of problems in getting jobs.
Joining any Merchant Navy course as a "SPONSORED" candidate will 100% assures your Job & Placement after successful completion of course. So in short "Getting Sponsorship from any approved shipping company will secures your present & future as well.

We strongly Recommend:

We "The Shanti Consultants" strongly recommend that each and every candidate, keen to join any Marine/Merchant Navy Course should must get SPONSORSHIP , From any reputed shipping company and then only should take admission into any D.G Approved college for Pre-Sea training.

How we can Support You in Joining Merchant Navy:

IMU-CET & Sponsorship Test 2016 Preparation:
We provide very concise and updated study-material & Books for IMU-CET Exam & Sponsoring Companies Tests with more than 5000 MCQS Practice Sets (All subjects) for exhaustive preparation, As practice would be the key for your success.
Preparation for IMU CET Exam & Sponsorship Test is not a tedious job, Only you need to know the Basics, Question's Pattern /Type & Exact Syllabus And accordingly also need to solve More & More Practice Sets For IMU CET 2016.
An intense understanding of Psychometric Test /16 PF is also required .
IMPORTANT: Give more emphasis on Preparation for Sponsorship Interview.As this will play a vital role for final selection .

Our Specially Prepared IMU-CET Study-Materials & Books:
We can help and support in joining Merchant Navy Course through providing our result oriented Study-Materials & through Guidance in order to achieve the best.
Know More

Who we are:
We are marine sevices Organisation , incorporated by a group of experienced marine professionals "Providing Total Support And Guidance To Join Merchant Navy Courses.